Requiem
"We share the incommunicable experience of war.
We have felt and still feel the passion of life to its top.
Because in our youth, our hearts were touched by fire."
–Oliver Wendell Holmes, Jr.
Combat Veteran & Supreme Court Justice
---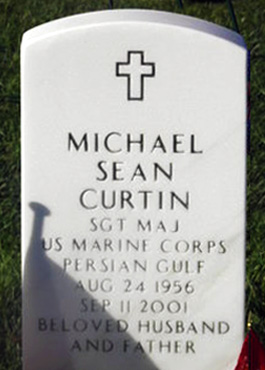 SGT. MAJOR MICHAEL CURTIN
AUGUST 24TH, 1956   †   SEPTEMBER 11TH, 2001
—SEMPER FIDELIS—
Marine Sgt. Major Michael Curtin, a sergeant in the New York City Police Dept., died saving others on September 11th, 2001. Looking at Curtin's history, it's clear he was a hero long before that day. Curtin was not only a first responder on September 11th, but also at the World Trade Center bombing in 1993, and again at the Oklahoma City Bombing in 1995. Curtin received notoriety during rescue when he caught a glimpse of blue material with a red strip sticking out of rubble – he knew it was the dress blue trouser leg of a Marine uniform. Curtin discovered the remains of Captain Randy Guzman, an officer stationed in the Oklahoma City Federal Building.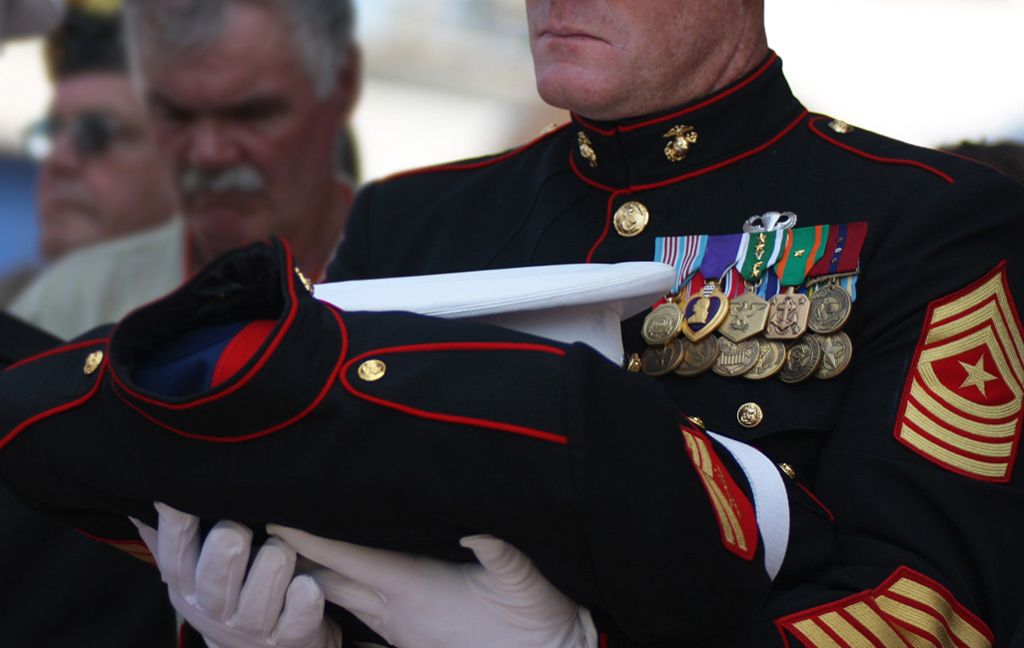 Curtin requested special permission to endanger himself and a small group of volunteers to recover Guzman's remains. Granted a 4-hour window, the recovery caught the Nation's attention: A United States flag was draped over Guzman's body, as witnesses fell froze and fell silent, saluting as he passed. When asked why he risked his life to recover the Captains remains, he replied: "Marines don't leave their own behind." In the line of duty as a New York City police officer, Curtin saved a man trapped in a collapsing building in Harlem, NY. The man said he would have died without Curtin: "I want to tell his family that he is a good person, that hundreds of people in New York City are still alive because of Mike Curtin. Because of who he was – because of what he was." said Kerik.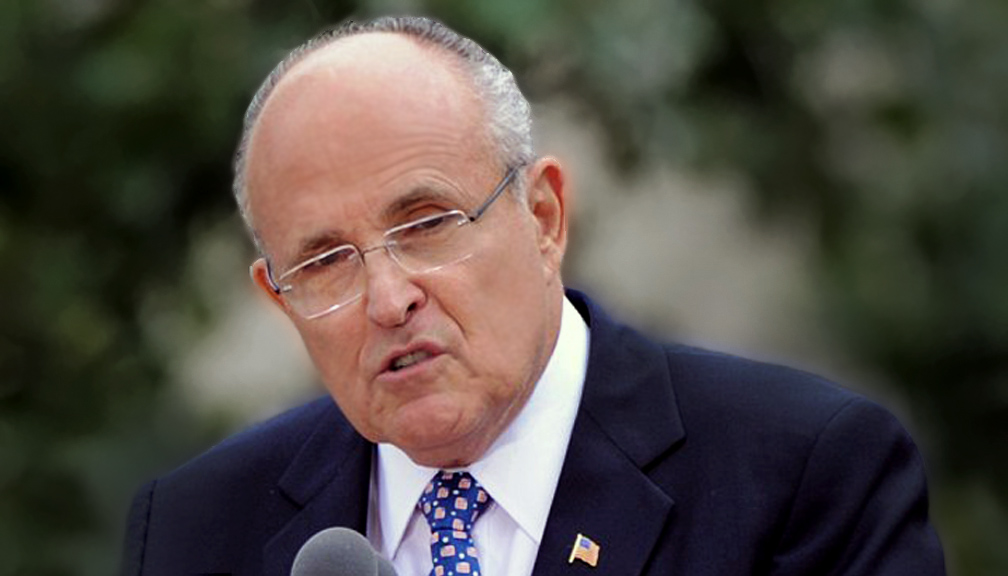 Former Mayor Rudolph Giuliani said of Curtin: "It gives me great inspiration to know the people whose strength and bravery defend America and New York." Listening to the mayor's words in the front row were the Curtin girls – they knew what their father did and who he was. "Your daddy cannot be taken from you – it can't be done – it's not possible. You have something most children don't have; the absolute knowledge that your dad was a great man, a patriot, and we thank you very much," Giuliani said. Reverend Romano, NYPD chaplain and friend of Curtin said: "There were few officers like Mike. He was the type of guy that got involved to make sure that everything was done right. He was proud of his wife Helga and talked about her much." She too, is a Marine. But as heroic as Mike was, he was also modest, said Romano. He'd say to all of us today: "Stop this – it's unnecessary. There was a job to be done, so I just did it."
"You have something most do not.
The absolute knowledge that your
dad was a great man."
–NYC Mayor Rudolph Giuliani
Never forgotten in any remarks about Curtin's life were his wife and children. "Twenty-two years ago, if someone said that Mike and I would be together, I'd say, Your crazy. I was just a Private in the Marines and Mike was a drill instructor, who knew?" Later, she said nothing could keep them apart, and described her husband as the perfect person for her, a tough Marine with a soft side for his girls. "I could stand here for days and tell you about Mike and the things he loved, like watching our girls play soccer and going to track meets. Mike so loved life, and the pleasures it brought him."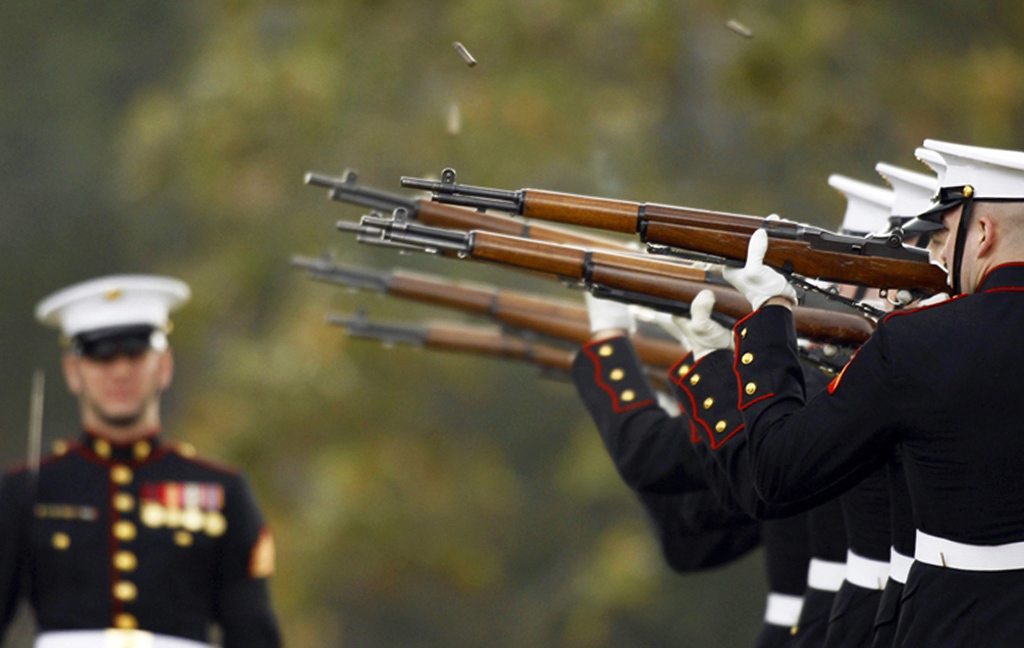 Mourners filed out of the church to where hundreds of police officers and Marines stood at attention. A Marine honor detail from Washington D.C. unfolded the flag to the cracking sound of 21 rifles firing, accompanied by trumpeters playing taps. The Marines carefully folded the flag into a blue triangle and presented it to the NYPD, who then presented it to Helga. "What happened on September 11th is something that will be with me for every day of my life yet we know somehow we'll pass through it. Time goes on. But it reminds us of the sole appreciation we have for our family, friends, community and country. He will be missed forever."
---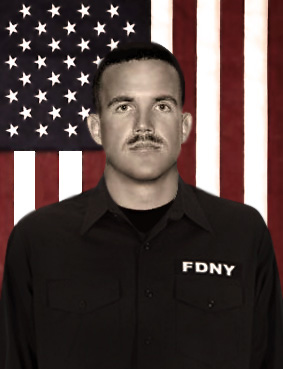 GUNNY SGT. MATTHEW GARVEY
OCTOBER 31ST, 1963   †   SEPTEMBER 11TH, 2001
—SEMPER FIDELIS—
Matthew Garvey enlisted in in the United States Marines at the age of 18. In his ten-year career, he would achieve the rank of Gunnery Sergeant and become a squad leader in 2ND–ANGLICO, an elite Marine scout team that inserted behind enemy lines in hostile territory, ahead of the Marines ground troops. He served in Beirut and in operations Desert Storm and Desert Shield. At 37, he joined the New York City Fire Department and earned his way into the elite: Squad–1 Unit, operating out of the Park Slope, Brooklyn Fire House. Matthew had recently been accepted to law school and was a member of 6th Communications Battalion – Alpha Company, a Marine Reserve Unit in Long Island, New York, when his Ladder Company responded to an emergency call on September 11th, 2001.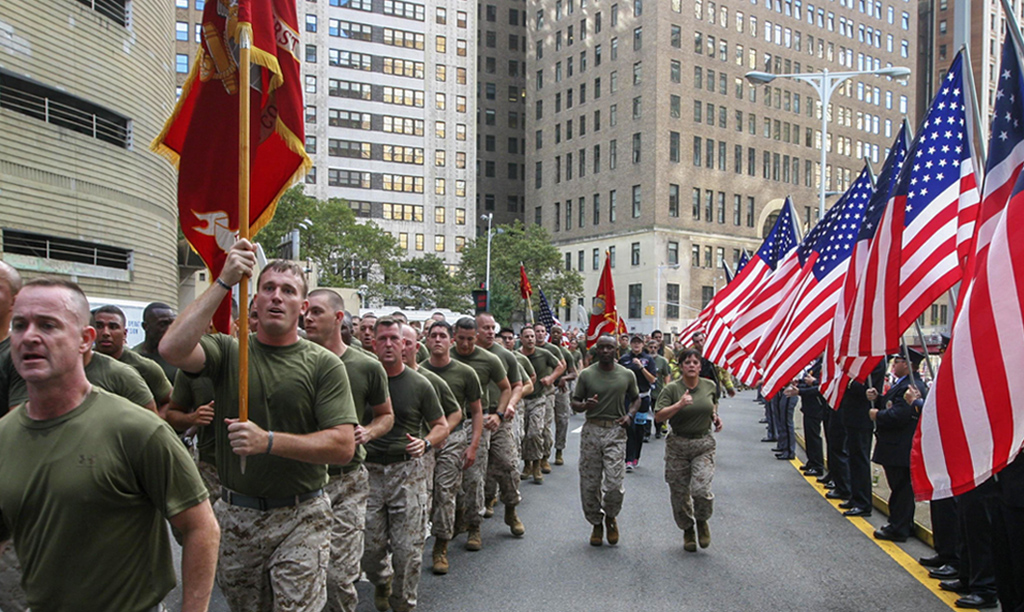 Matthew died alongside the other 343 firefighters at the World Trade Center running up the south–tower in an attempt to save those trapped inside. In recognition of Matt's bravery, the Secretary of the Navy awarded him with the Navy and Marine Corps Medal, which is presented for heroism not involving actual conflict with the enemy. Matthew's former Unit: 6th Communications Battalion, Alpha Company Marines, have participated in the annual Tunnel to Towers event every year in his memory. The unit's base, located in Long Island, New York, has been named after him in honor of his service and sacrifice to his fellow man. A memorial ceremony is held by the Alpha Company Marines in the cemetery where Matthew was laid to rest, every year since his passing. Seen above is the Alpha Company formation, completing the Tunnel to Towers run in New York City, which travels through the entrance of the Brooklyn Battery tunnel, and ends at ground-zero, where the Twin Towers once stood. The New York Marine Units: 6th Communications Battalion and 2nd Battalion – 25th Marines, complete the run every year wearing combat boots and utilities for the duration of the five-K run.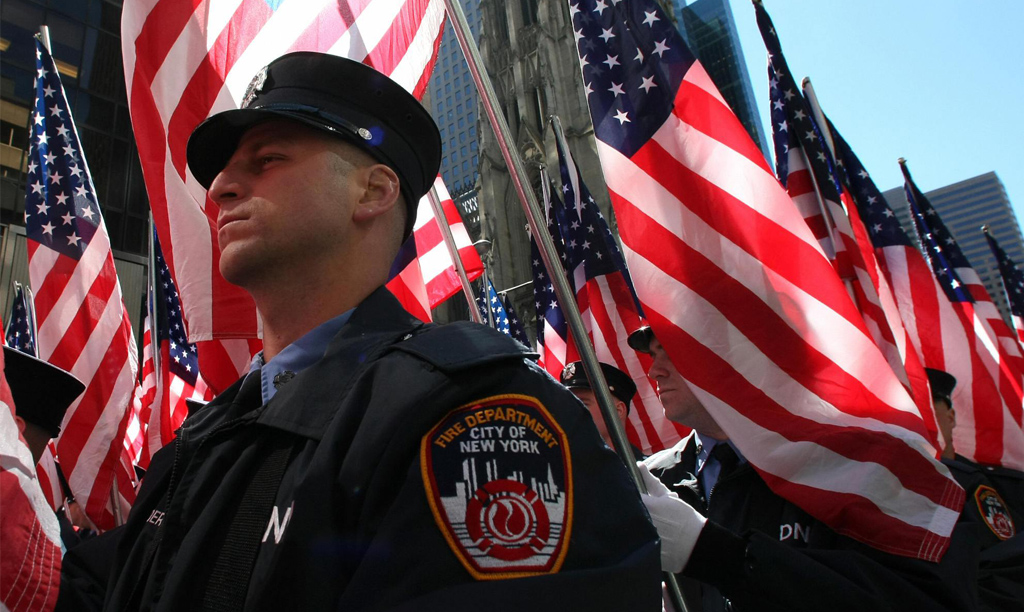 Seen above are members of the New york City Fire Department's Honor Guard, marching through downtown Manhattan toward ground-zero, during the opening ceremony of the annual Tunnel to Towers Event. Honor Guard members are a combination of Firefighters that belong to the Fire House Companies that lost members on September 11th, 2001 and direct family members of the fallen, who have taken their place as on of New York Cities Finest.  The Honor Guard has 343 flag–bearers, one flag for each Firefighter lost that day. To view a short film of the event – as seen through the eyes of participants, click on the video below:
---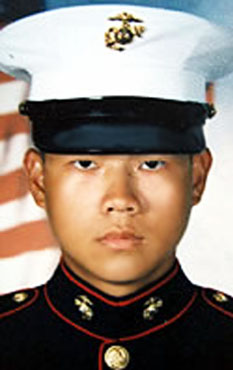 LANCE CORPORAL JEFFREY LAM
JULY 8TH, 1982   †   NOVEMBER 8TH, 2004
—SEMPER FIDELIS—
As Buddhist priests chanted prayers and lit incense, hundreds of mourners gathered at the Chun Fook Funeral Home in Queens, NY to say their last good-byes to Lance Corporal Jeffrey Lam, who was killed in Iraq a week earlier. Lam was 22 years old and a native of Queens NY. He died in a dramatic vehicular accident in the Al Anbar Province of Iraq. Lam was one of two Marines who drowned when the military bulldozer he was in – overturned into the Euphrates River. The son of immigrants who speak little English, Lam was a student at Pace University, studying information technology. He met his wife while at Pace and they were married in June of 2003. The couple had a daughter Teri, three months before Lam was killed. Family members remember Lam as someone who defined their patriotism by making a personal difference. He joined the Marines four years ago and was assigned to the 6th Communications Battalion, 4th Force Service Support Group located in Brooklyn, NY.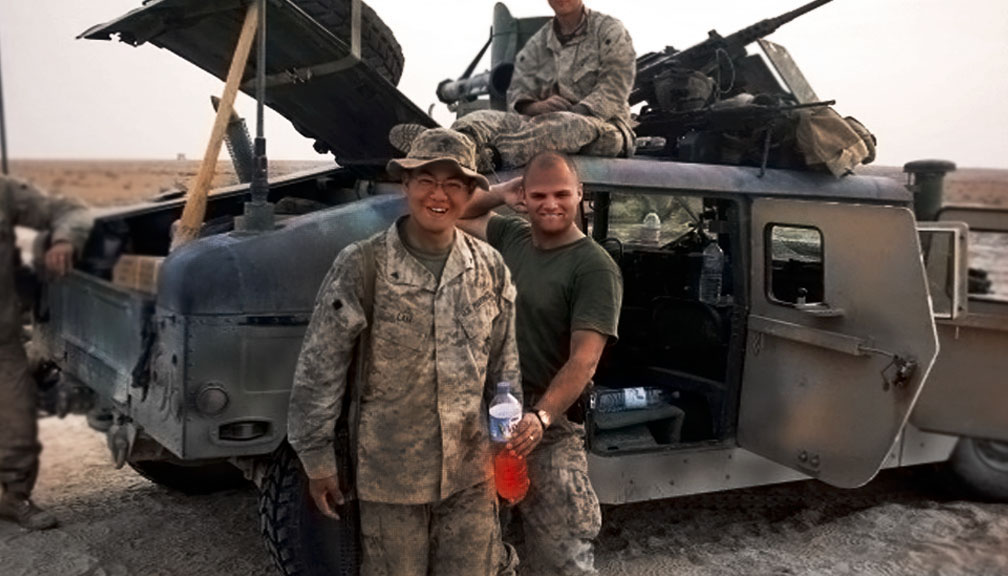 He was the youngest of three children. His mother is a seamstress and his father is a chef. His brother, Anthony, two years older, said how much Jeffrey enjoyed playing video games and that he had matured when he had gotten married and became a father. At the funeral, his widow, dressed in black with a black veil, had to be held up by her sister-in-law, Annette. As part of the ceremony, immediate family members circled the wooden coffin several times as the priests intoned their prayers and then bowed three times. There were candles, incense and a bowl of oranges in front of the casket. A large, framed photograph of Lam in his Marine uniform was surrounded by black ribbons. The Buddhist priests chanted soothing prayers to the sounds of bells and drums. Mourners came in groups to pay their respects. Several elderly veterans went to the coffin together, as did members of the Chinese-American Military Family Association, a nonprofit group that assists families with children serving in Iraq.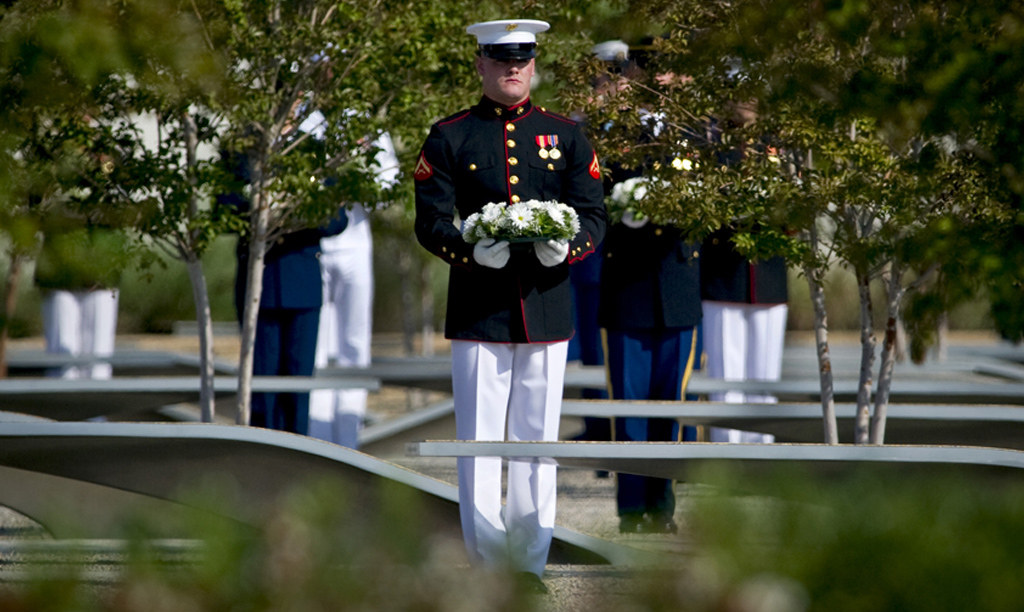 The open casket had a Marine honor guard that was changed periodically during the ceremony. Lam was dressed in his uniform, an American flag at his head. A convoy of Marines paid their respects, as did members of the Army, Navy and local police officials. As the service progressed, it became standing room only for mourners. A graduate of the Bronx High School of Science, Lam and his family lived in the Oakland Gardens section of Queens.  A battalion of Marines accompanied the body to Maple Grove Cemetery in Kew Gardens, where there was a 21-gun salute and Taps was played. Lam is the fifth Queens soldier to die in Iraq and the second in a month. On October 10th, PFC. James Prevete, age 22, died when his military vehicle crashed due to poor weather conditions. Army Specialist Roger Ling, 20, died when his vehicle was hit by an IED. Marine Corporal Robert Rodriguez, 21, when his tank came under artillery fire and plunged off a bridge. Army Specialist Wilfredo Perez Jr., 24, was killed in a grenade attack on a children's hospital. All were Queen's natives.
---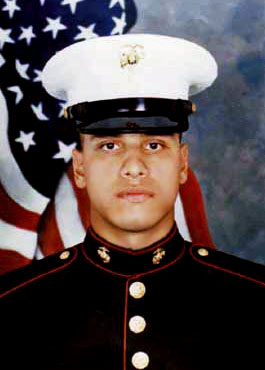 CORPORAL CALIXTO ANAYA JR.
JUNE 19TH, 1966   †   SEPTEMBER 11TH, 2001
—SEMPER FIDELIS—
Calixto Anaya Jr. known as Charlie to his friends and family, grew up in the small village of Suffern, located in Rockland County, NY. Charlie was Marine Corps Veteran of Operation Desert Storm and Firefighter with Engine-4 in the New York City Fire Department. Charlie died tragically in the line of duty alongside 343 of his fellow brothers, at World Trade Center attack on September 11th, 2001. He was 35 years old. Family and friends gathered to remember him on November 7th, 2001, at the Suffern Volunteer Hose Company No. 1–35, followed by firematic services and a memorial mass, held at the Sacred Heart Church in Suffern, NY.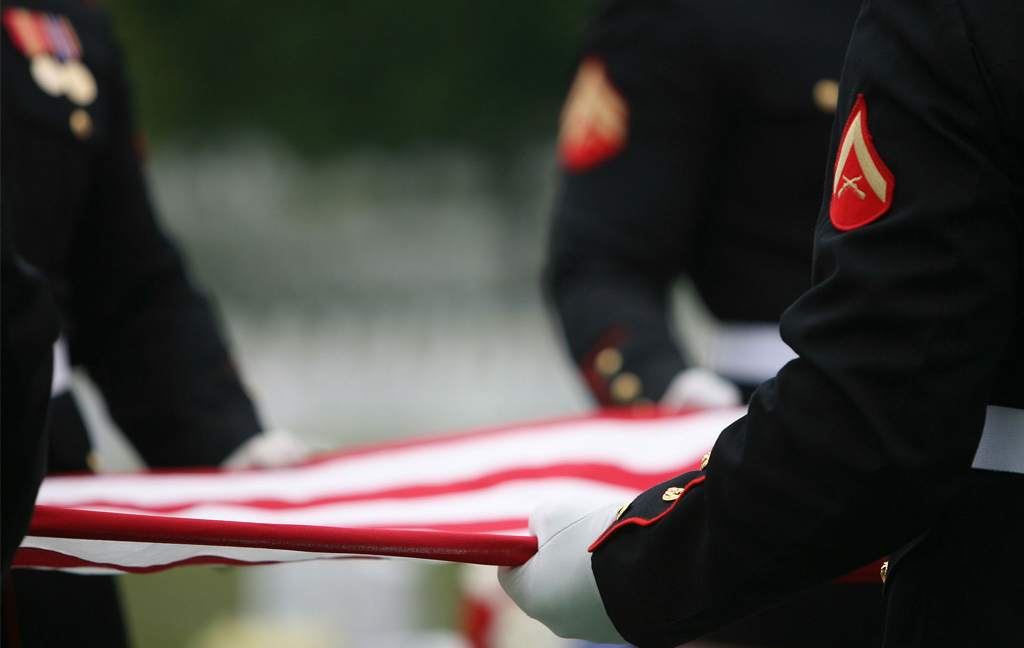 Charlie re-enlisted in the Marine Corps when the Persian Gulf War broke out in 1991. He believed true patriotism meant flying the American flag – not only in front of their home, but wherever the family came to rest on camping trips, even jaunts to the beach. He loved the Yankees in baseball and the Giants in football with equal exuberance. He even preserved the hole he punched in his basement ceiling while celebrating the Yankees' World Series victory over the Mets.
"Charlie was attentive to the little things that keep love alive…"
–Marie Anaya, Calixto's Wife
Calixto's wife Marie, remembers the New York City Firefighter as "attentive to the little things that keep love alive," whether it was taking days off for activities with their three children, or showing up with flowers when she did not expect them. "Charlie always wanted to do things the right way," Mrs. Anaya said. When they were married in 1990 in a simple civil service, Mr. Anaya insisted that they begin saving for the big church wedding her parents could not afford. Six months later, they marched down the aisle of St. Rita's Roman Catholic Church in Brooklyn, NY.
---
CORPORAL DAVID VARGAS
APRIL 30TH, 1978   †   JANUARY 7TH, 2012
—SEMPER FIDELIS—
Corporal David Vargas served as a United States Marine of 6th Communications Battalion – Alpha Company. He  served honorably during the Iraq War in direct support of National Emergency Operations. David was the recipient of the Iraq Campaign Medal, Sea Service Deployment Ribbon, Armed Forces Reserve Medal, Global War on Terrorism Expeditionary Medal and the National Defense Service Medal. The memorial film short below provides a glimpse into David's life and all those who loved him.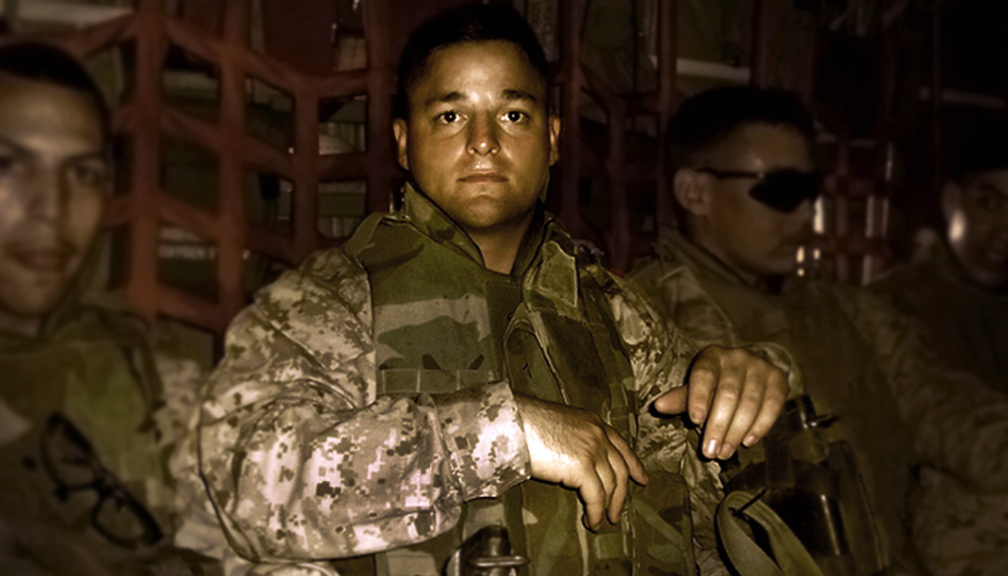 "I hadn't met VRL prior to David's passing. The way they embraced us is unexplainable."
 –Connie Moretto, David's Sister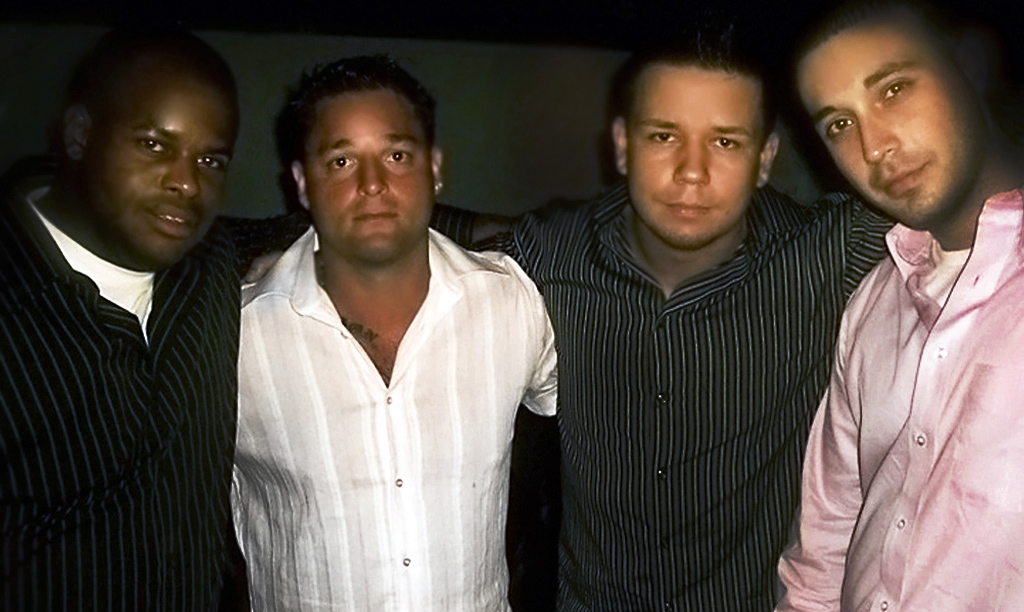 David received full military honors on January 13, 2012, at the St. Marks Roman Catholic Church in his native home of Brooklyn, New York. He was laid to rest among his fellow brethren the following day, at the Calverton National Military Cemetery in New York. It was only then that members of VRL met David's enormous and loving family. During an interview, David's sister – Connie Morretto expressed: "I had never met VRL prior to David's passing. The way they embraced us is unexplainable. I lost my youngest brother – From that I will never recover. Fortunately for me, his brothers took me in and continue to support my family, doing what they can to keep his memory alive." Each year since his passing, Connie along with several of David's family members fly from all over the country, to visit and pay their respects. The following day, they participate in the Tunnel to Towers Run with Team–VRL, in honor of David's memory. The proceeds raised to participate in the event goes to developing specialized housing that accommodates the needs of severely wounded American veterans returning from war. Seen above from left, are VRL members: Corporal  Sean Simpson, Corporal David Vargas, Sgt. Dre Popow and Corporal Christian Zamora, seeing each other for the first time a month after returning from their first tour of duty, during the Iraq War. David was our brother in arms, his memory cannot fade – it lives within us all.
---

STAFF SGT. GARRY LEE WOODS JR.
JUNE 24TH, 1984   †   APRIL 10TH, 2009
—THIS WE'LL DEFEND—
Born in Kentucky, Staff Sgt. Woods (known by his middle name Lee) was an artist. Lee was a talented musician who sang and played many instruments and had a passion for illustration. He graduated from Bullitt Central High School and began basic training at Fort Knox, Kentucky. Lee completed two previous tours of duty in Iraq with the 3rd Armored Calvary Regiment, and was deployed on his third tour in September 2008, assigned to the 1st Battalion, 67th Armor Regiment, 2nd Brigade Combat Team, 4th Infantry Division. The units area of operation was located in Mosul, Iraq.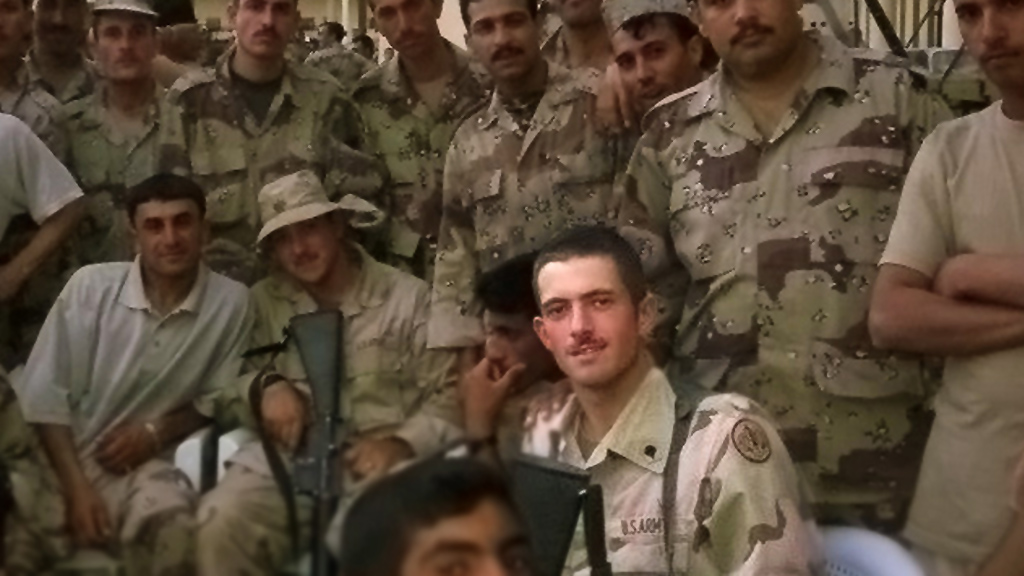 On April 10, 2009, Staff Sgt. Woods volunteered for a mission that later that led to a deadly ambush. Five of the vehicles in Staff Sgt. Woods convoy were engaged by the enemy who utilized a dump truck to barrel through a military check point. Staff Sgt. Woods – driver of the fifth truck in the convoy, took immediate-evasive action and strategically positioned his vehicle in order to provide his mounted-heavy machine gunner a clear line of fire. Lee's machine-gunner successfully engaged the enemy, killing the driver and causing the massive truck to veer off its path and roll to a full-stop. Unfortunately, the disabled truck was loaded with 10,000 pounds of explosives the enemy managed to detonate within range of the convoy, killing all five U.S. Soldiers, including Staff Sgt. Woods. He was 24 years old.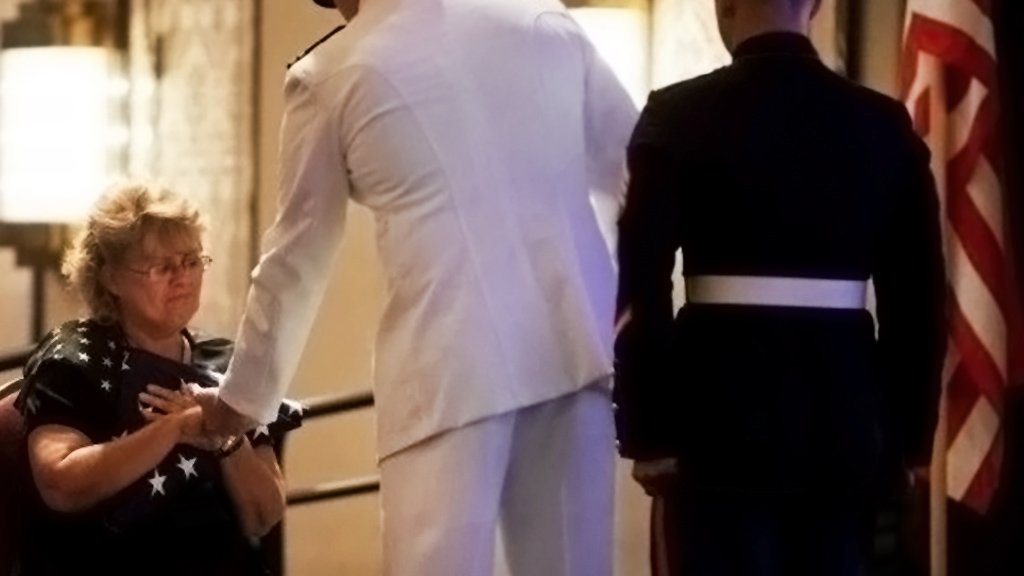 To this day, Gold-Star mother: Becky Manning Woods Johnson, has dedicated her life to keeping her son's memory alive. She has developed an online-memorial page that's received an overwhelming response of support from all over the United States. Staff Sgt. Woods and the men he served with, will live forever in the hearts of those who knew them. This site is dedicated to their courage and sacrifice – It will never be taken down.
---
ALL GAVE SOME  †  SOME GAVE ALL