The Five Points Initiative
It happened here
Not somewhere in America
They attacked our city, our home. And when they did, New Yorkers responded. VRL launched a grassroots initiative focused on assisting fellow New Yorkers, who volunteered for military service in defense of their hometown. Help them to pick-up where they left-off by providing the tools they need to start life in a new direction. The initiative includes military family mediation, professional trade certifications, employment opportunities, education opportunities, healthcare and benefit registration assistance, as well as a variety of college-accredited internships and volunteer opportunities. The reason 360º works is because every aspect of the program is managed by professionally trained veterans of the same generation.
Our staff is part of the population that we are working to serve. We understand the needs of our returning veterans because we were those returning veterans. During the 5 Point Initiative, we will be traveling through New York's borough's, interacting with the community to spread word of our mission. Our veteran staff believes in the people of NYC and their commitment to the sacrifice of the veteran community. This program, as all VRL services, is provided free of charge to veterans and their families. When New York needed them, they answered the call–now it's our turn.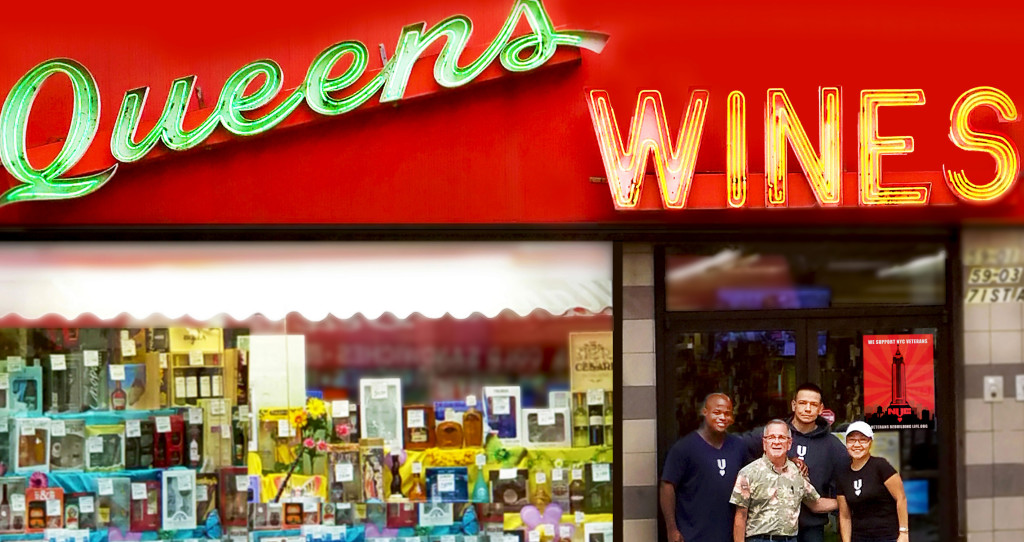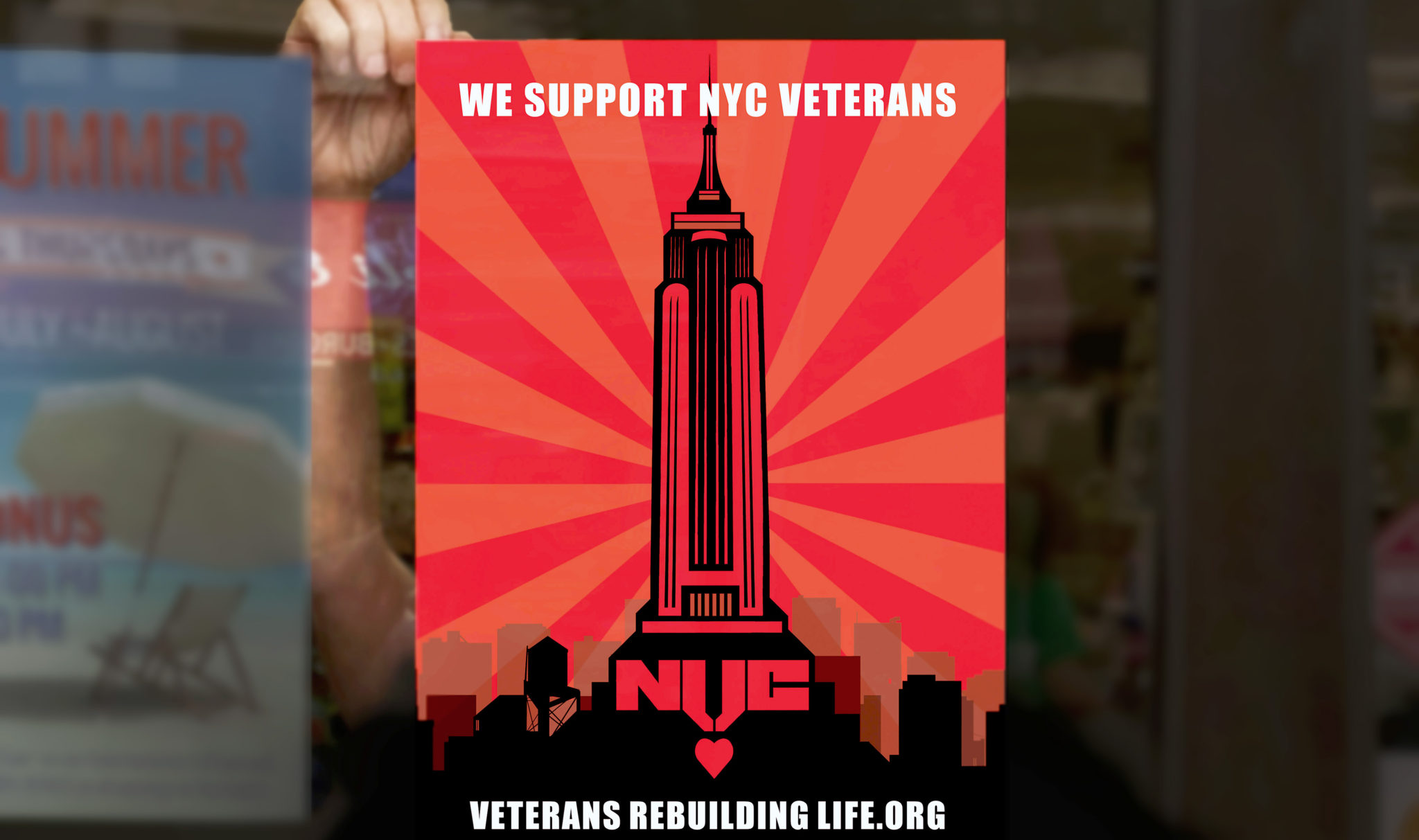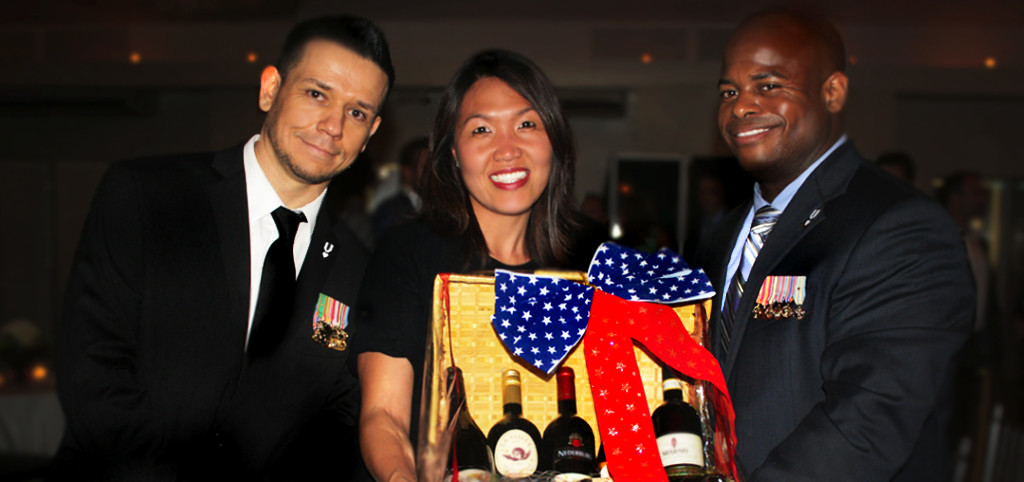 QUEENS PRIDE
Supporting American veterans is a family tradition at the Queens Wine and Liquor Store, an independent small business, owned and operated by a family of native New Yorkers. As an official sponsor of Veterans Rebuilding Life, Queens Wine and Liquors represents the homegrown spirit rising among small businesses in the NY area, expressing their support for returning vets.
Populated by the nations largest cultural blend of American immigrants, Queens is characterized by working-class values – people who understand sacrifice, and express gratitude for the freedoms provided, by never forgetting that veterans are a vital part of the community.
It's not easy to find establishments that share a sense of gratitude toward those who fought for the very city in which we live. Yet year-after-year, the family of Queens Wines and Liquors continues to support local veterans by sponsoring VRL events, developed to support humanitarian projects focused on assisting returning veterans, by providing them with free professional training, educational assistance, and full-time employment opportunities.
This year, Queens Wines and Liquors sponsored VRL's May event at the Battery Gardens Waterfront venue, located in downtown Manhattan. Carefully decorated gift baskets filled with a variety of wines liquor-related gifts, were provided to VRL at no cost! These wicker picnic baskets were the highlight prizes of the event raffle. Seen left, is the winner: Ms. Amy Wong, surrounded by VRL members:; Sean Simpson, and Dre Popow.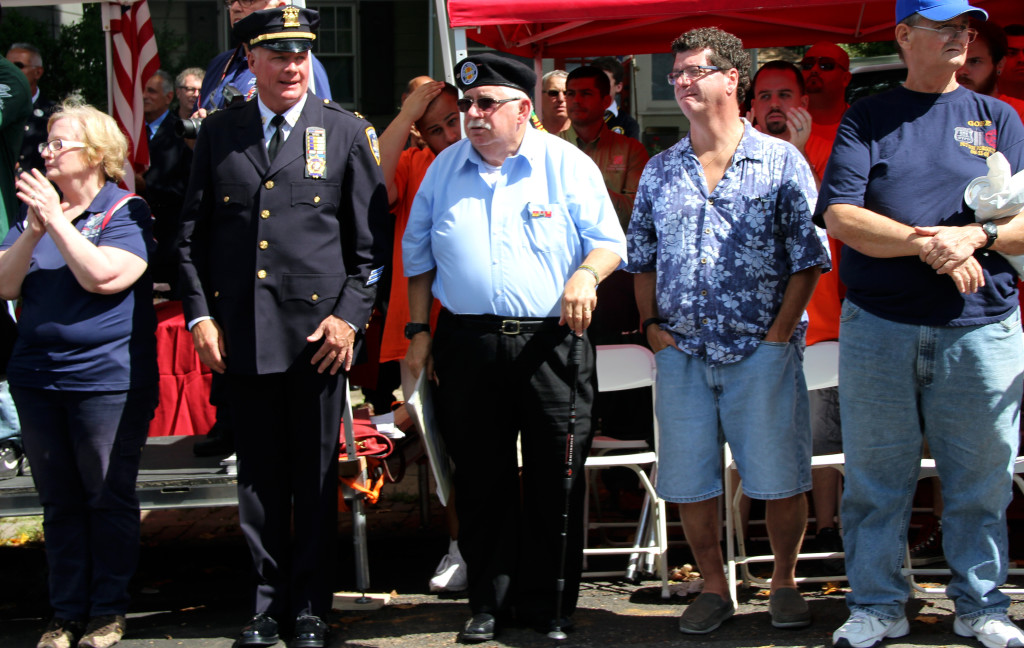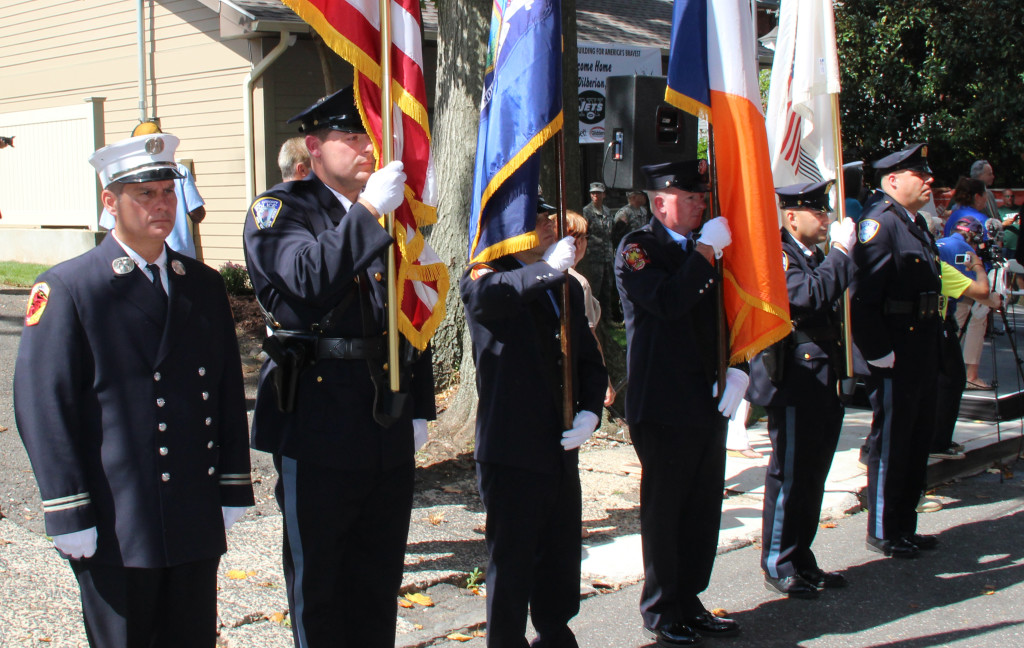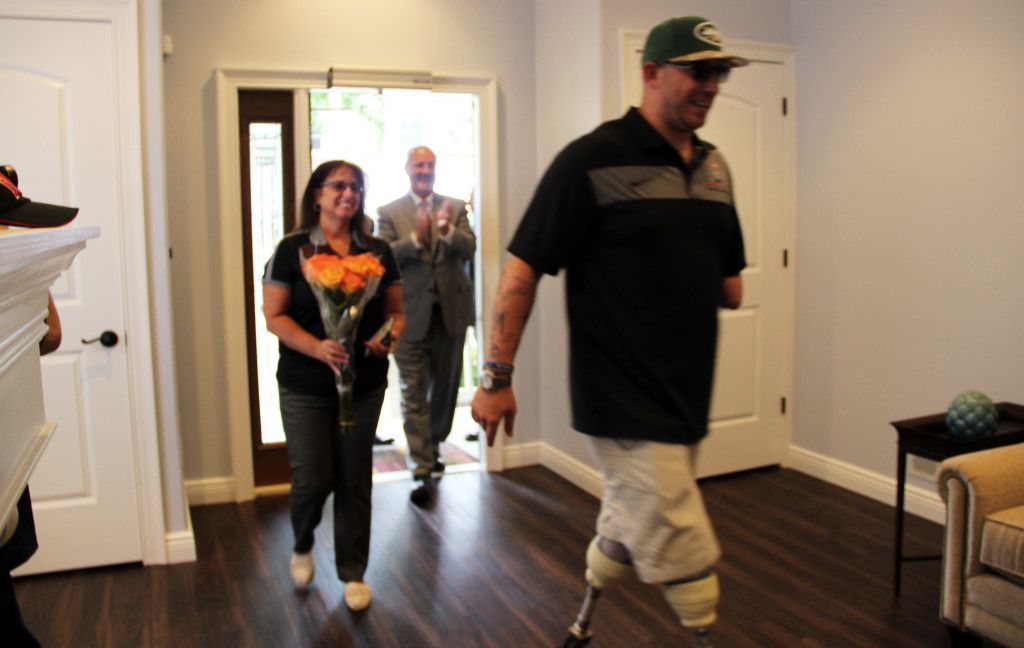 STATEN PRIDE
On September 11th 2015, members of Veterans Rebuilding Life honored the solemn day by celebrating the grand opening of Sgt. Bryan Dilberian's new home on Staten Island, NY. Bryan served in combat during the Afghanistan War with the U.S. Army's 10th Mountain Division.
While on a routine patrol in Afghanistan an improvised explosive device (IED) exploded. Instantly, Bryan's best friend, PFC. Jimmy Waters, was killed. In that moment, Bryan was also hit by shrapnel and critically wounded. Bryan lost both legs below the knee and his left arm below the elbow.
In an interview, Bryan stated, "They can take my legs, but they can't take my pride." One thing that does not need fixing is his incredible fighting spirit.
The courage he has displayed is remarkable. In an interview for the Daily News, Bryan said he doesn't second-guess his decision."
Upon honorable completion of his military service, Bryan began a career with the Brooklyn Fire Dept. and participates in fundraising events aimed at assisting severely wounded vets.
Like all humanitarian missions, the design and development of Bryan's home took the committed efforts of several local businesses and community organizations. Together, they achieved raising the total cost of constructing the spec-home, and all pitched in to actually build and furnish it to the very last detail.
Representatives from all walks of life gave thanks to the Dilberian family for allowing them to be a part of this noble project.
Staten Island showed its support, by welcoming Bryan to their community by lining the streets in celebration of his arrival Seen above wearing the VVA Beret (Vietnam Veterans of America) is Supreme Court Justice Michael Brennan, of the Brooklyn Veterans Treatment Court, Bryan's new neighbor and committed supporter of the Dilberian family.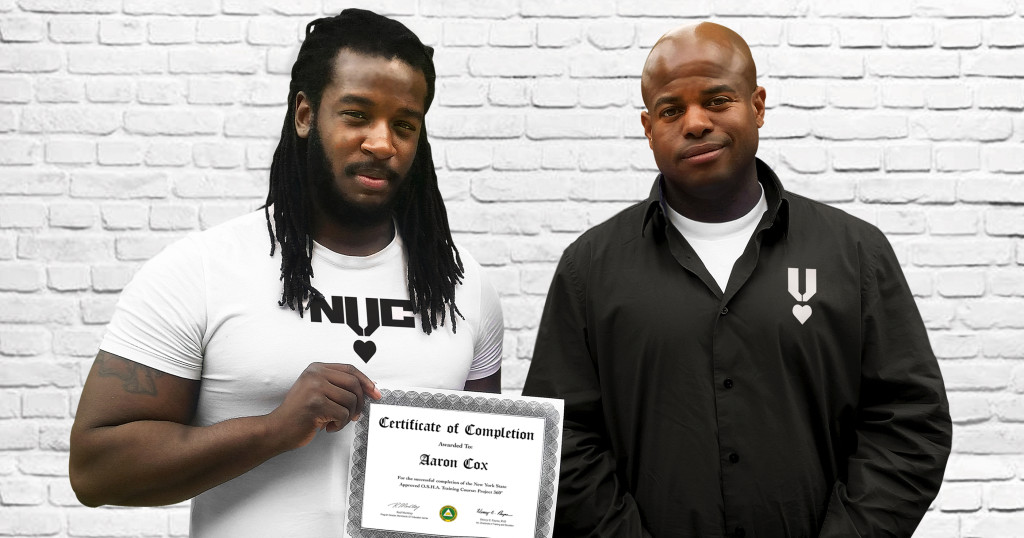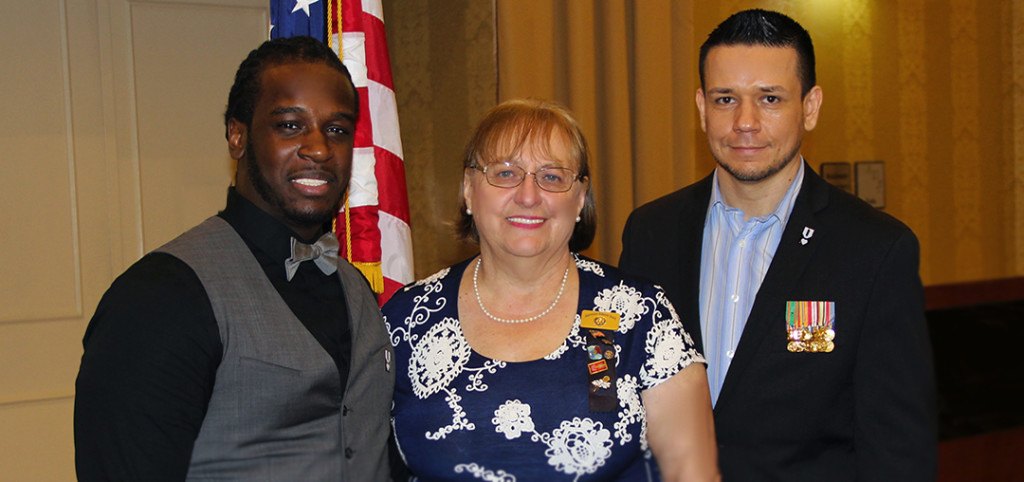 MANHATTAN PRIDE
U.S. Army veteran: Aaron Cox (seen below left) served in combat operations in both Iraq and Afghanistan. Upon honorable completion of his military service, Aaron returned home to his wife and daughter in Harlem, NY. It was there that Aaron met the challenge all returning vets face: supporting a family.
Like so many before him, Aaron fell victim to the belief that the government would enforce laws to protect veteran jobs, by holding their civilian employment positions until they returned from war. But the convenience of time provides compromising loopholes to a forgetful society who find ways to replace absent vets without legal repercussion. After months of endless job hunts, Aaron's unemployment benefits were running low.
That's when a random VA employee handed him a VRL business card: "I don't know if they can help you, but I know we can't, so check out their site." Out of answers, Aaron Googled: Veterans Rebuilding Life. Within 24 hours, Aaron was contacted by a VRL representative who scheduled an appointment for him on the following day.
He met VRL mentor Sean Simpson. The two discussed their shared military experiences, and the issues they faced when returning home. Sean ended the meeting by registering Aaron for VRL's professional training and employment program. Aaron showed up 30 minutes early for his first class and enthusiastically completed the training course in record-time, holding the highest scores of the all-veteran class.
But before receiving his certificate of completion, Sean had already secured a full-time position for Aaron in the construction industry. After completing his first week of work, Aaron's new employer contacted Sean to express gratitude for providing such a stellar employee. Sean's saw potential in Aaron and insisted he apply for higher education to expand his career options. Seen above from left is Aaron, holding his Certificate of Completion standing with VRL mentor: Sean Simpson, responsible for providing veterans with state-certified safety training, before entering the workforce.
Sean contacted VRL partner, The Elmsford Rotary Club for help. In less than a month, Aaron was invited to attend the Club's Annual Dinner, where he was officially recognized and awarded the Rotary Scholarship for Veterans (the first of its kind) opening the door for future vets seeking higher learning.
Seen above is Aaron standing with Elsmford Rotary Club President Barbara Eanazzo, and VRL Director: Dre Popow. Aaron continues to work in construction industry while attending night-school at Berkley College, where he's completing a Bachelor's Degree in Urban Planning and Development.  Aaron has come full-circle by becoming an official VRL member, responsible for assisting fellow vets seeking training and employment.
BROOKLYN PRIDE
Earl Fraizer was born and raised in New York City's poorest and most dangerous neighborhood: Brownsville, Brooklyn.
After joining the Army, Earl was deployed into forward combat operations in Afghanistan. "I was clearing a room for bombs when he (the insurgent) jumped from behind the door and gutted me with a bayonet." Earl's military records state that he was severely wounded in combat, despite not receiving a Purple Heart (the medal awarded exclusively to combat-wounded service members.)
VRL contacted the Purple Heart Foundation of America, who explained: "No U.S. soldier has been bayoneted since the Vietnam War. All wounded personnel are sent to the NATO hospital in Germany, where they are registered by the administrative branch to ensure they're awarded the Purple Heart."
It was later discovered that because Earl's wound was so severe, the on-scene medical evacuation team chose an alternative medical facility. A decision that led to a variety of detours that bypassed Germany altogether. By the time he was home, Earl just wanted to move on with his life.
Despite the missing award, the VA still acknowledged Earl's injury and provided a service-connected disability rating–(a stipend given to vets suffering damage that will limit their employment options permanently). Instead of accepting limitations, Earl enrolled at St. John's University and is completing a PHD in Psychology, using the Post-911 GI-Bill.
When not in school, Earl also coaches a youth basketball team: "When I was a kid, everyone knew Rock–the Brownsville gangster. I was too young to know why everyone feared him, but Rock took care of the neighborhood kids. He taught us how to play basketball and built a court so we could practice.
"I didn't do it for medals, I was home, that's all that mattered."
—US Army Sgt. Earl Frazier
The truth is, without Rock, a lot of kids would've ended up in jail or died young. I was always grateful to him." But when Earl returned from the war, he learned that Rock was shot and killed in the street. Earl spent his VA stipend to pick up where Rock left off. He is now the proud coach of TEAM-ROCK  Brooklyn Youth Basketball team. The undefeated Brownsville league is comprised of boys, ages 12 to 14, all from the same neighborhood Earl grew up in.
Inspired by his dedication, Veterans Rebuilding Life was honored to become the official sponsor of: TEAM ROCK, designing and producing the required uniforms for the Brooklyn champions to compete with registered basketball leagues across the city! Earl is above surrounded by members of Team Rock – he is now an active member of Veterans Rebuilding Life, responsible for VRL's youth initiatives.