Manhattan Veterans Day Parade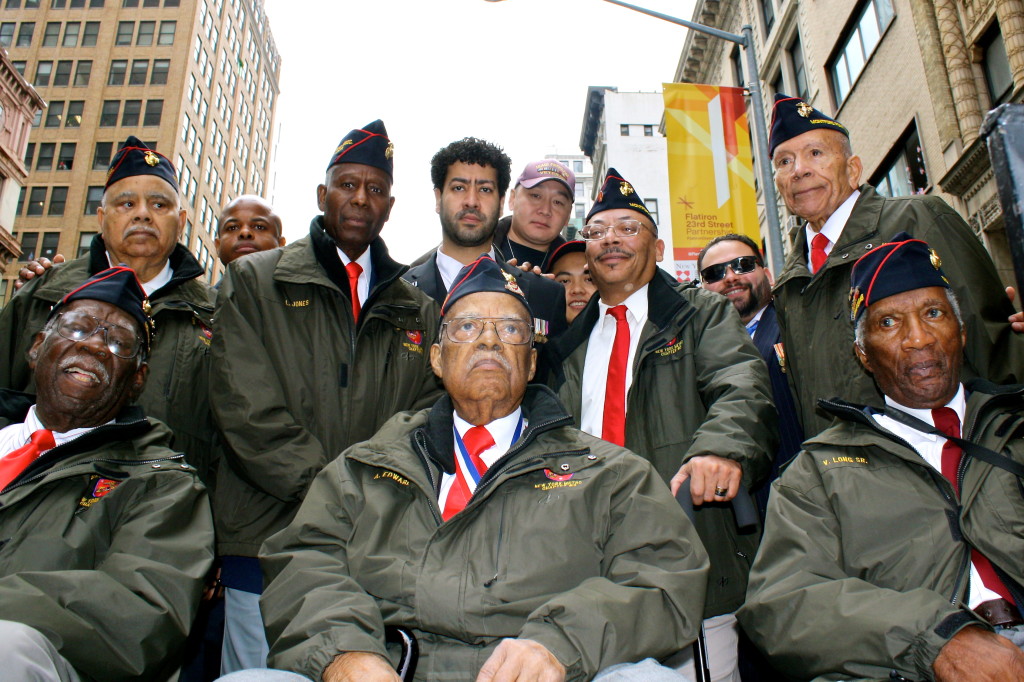 Veterans Rebuilding Life was honored by the city of New York who invited members to ride the lead–float in the Manhattan Veterans Day Parade. Accompanying VRL, were the Montford Point Marine Association (seen above) a nonprofit military veteran's group, founded to memorialize the legacy of the first African Americans to serve in the United States Marine Corps. The first African American U.S. Marines were trained at Camp Montford Point, in Jacksonville, North Carolina, from 1942 to 1949.  The Association's stated creed is: "To promote and preserve the strong bonds of friendship born from shared adversities, and to devote ourselves to the furtherance of these accomplishments to ensure more peaceful times."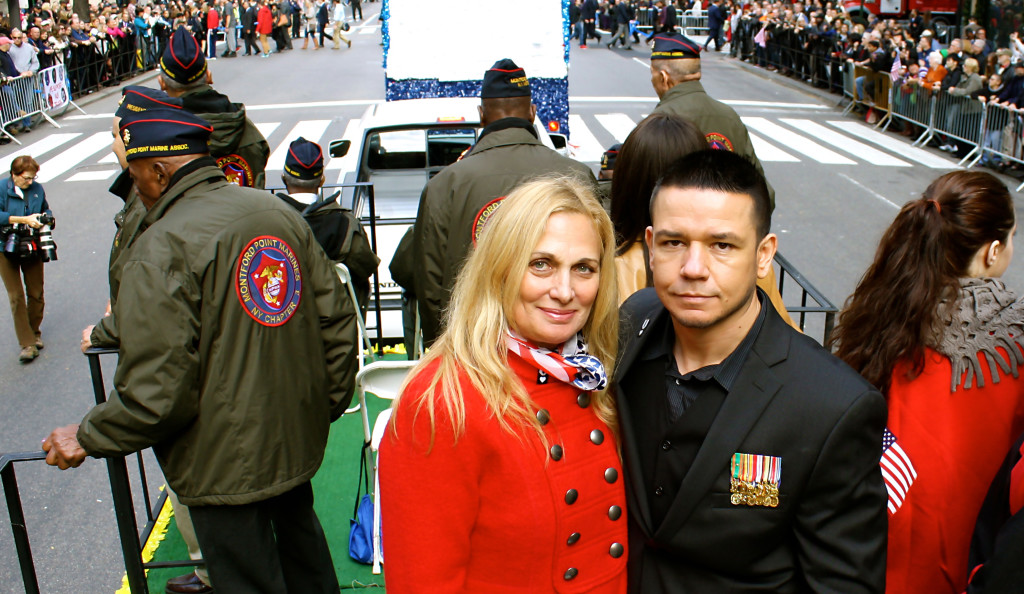 Among the special guests aboard the float was Ms. Diane Hawkins, the descendant of World Word II hero–John Basilone. Gunnery Sgt. Basilone received the nation's highest military award for valor, the Medal of Honor, for heroism during the Battle of Guadalcanal. He was the only Marine enlisted man to receive both the Medal of Honor and the Navy Cross in World War II. He served three years in the Army before enlisting in the Marines in 1940, claiming the army "wasn't tough enough" and was deployed to Guadalcanal where he held off 3,000 Japanese troops after his 15-member unit was reduced to two other men. On the first day of the Battle of Iwo Jima, he was killed in action, after which he was posthumously awarded the Navy Cross for extraordinary heroism. Ms. Hawkins honors her Uncle's legacy by keeping it alive through her media career, publishing a book and documentary on his life.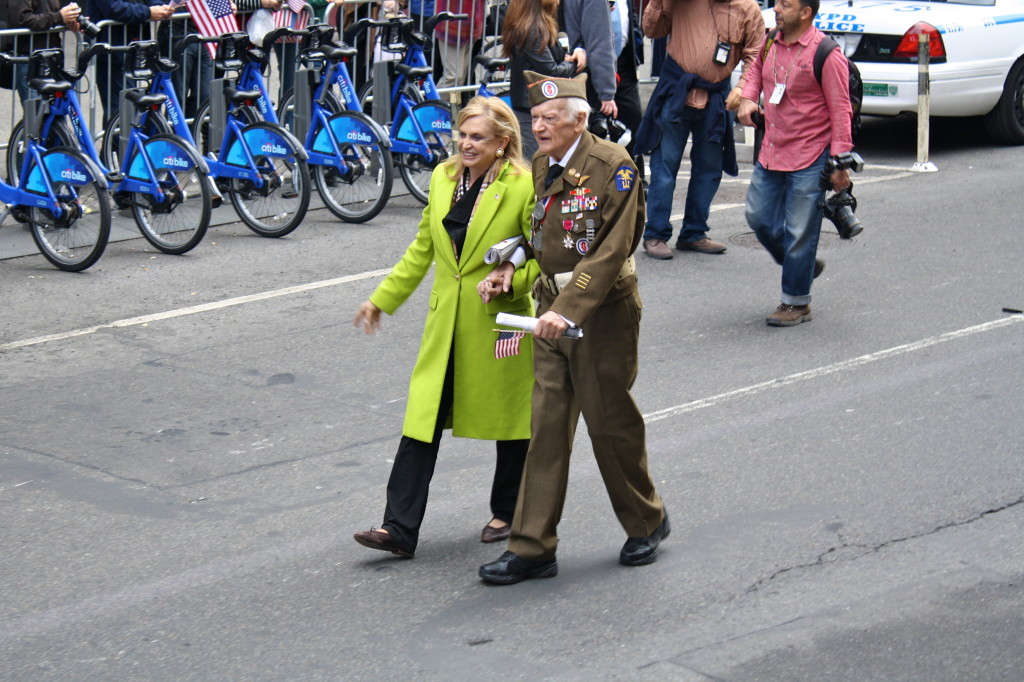 Spotting them in the crowd, VRL stopped the float and attempted to invite members of the greatest generation to ride along with them. The couple (seen above) included one of the last living Normandy Veterans of World War II. The couple declined the offer, and continued to walk the entire distance of the parade. When asked why he wouldn't take a seat, the decorated soldier replied: "I have to earn my drink at the finish line." The couple was cheered on to the non-stop applause of the crowded parade sidelines. Upon completion of the entire parade's distance, religious leaders surrendered their seats insisting the couple rest (seen below).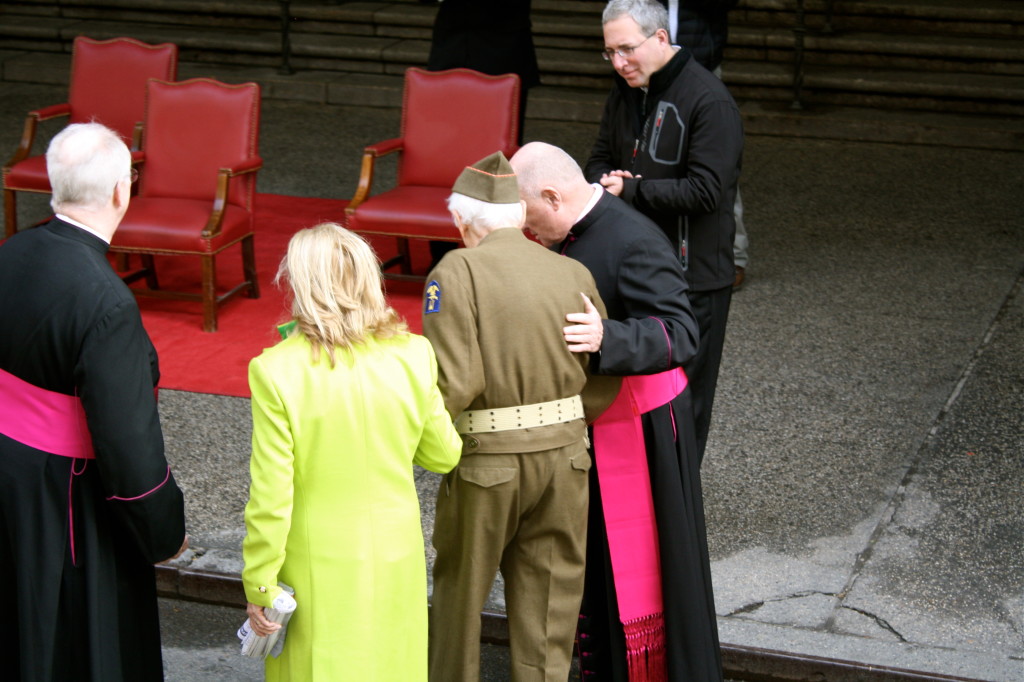 Thanks to everyone who came out this Veterans Day and provided such an incredible outpouring of support. It's truly an honor to have served such a great city – thank you. Continue scrolling down to see more highlights of the 2014 Manhattan Veterans Day Parade!